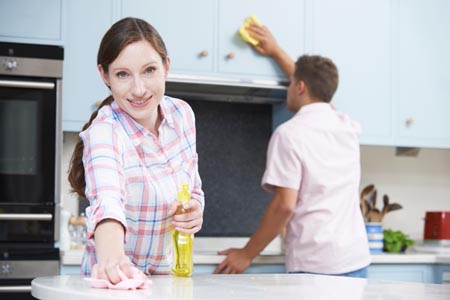 Cleaning chores can feel rather tedious, but are necessary in order to ensure a healthy environment for you and your family. The best way to get through it all is to work efficiently. With proper planning, you can cut down on your overall cleaning time and enjoy more free time to do the things you enjoy.
Many people make the mistake of starting their cleaning chores by vacuuming or wiping the floor. This is a bad idea as when you eventually get to clean items that are at a higher level, it will result in some dirt and dust falling and dirtying up the floor again. Always start cleaning from the highest level possible and work your way down to avoid doubling the work.
When it comes to scrubbing down bathroom tiles, tubs and sinks, it is a good idea to let the cleaner soak in and soften the scum and other dirt. This will mean applying less force when scrubbing to get the surfaces nice and clean. You can spray the surfaces with the cleaner and perform some other tasks, like sorting laundry or loading the dishwasher, before coming back to scrub. Using less effort means you can get this task finished much faster and enjoy a comfortable and clean bathroom.
The less dirt and dust you have accumulating in the house, the less work you will have to do cleaning it up. There are many ways you can limit this exposure. Putting out dust mats at your door, and having your family and guests leave their shoes outside is a good way to limit the amount of dirt and dust that is tracked into your home. Checking on gaps in the doors and windows that would let in dust carrying drafts is another good idea. If you garden, consider setting up a utility room right next to the door where you can wash off before going into the rest of the house.
Clean your cleaning implements
Many people get lazy about cleaning their brushes, rugs and even emptying out vacuum bags. When you are done using a cleaning implement, make it a habit to clean and dry it as well before putting it away. This will not only be a satisfying conclusion to your cleaning exercise, it will also mean less wastage of time when you next have to make use of the items.